Many know Unicheck as Unplag. It has recently got a new name and a few upgrades along with it. I've tested the new version to get the most up-to-date results.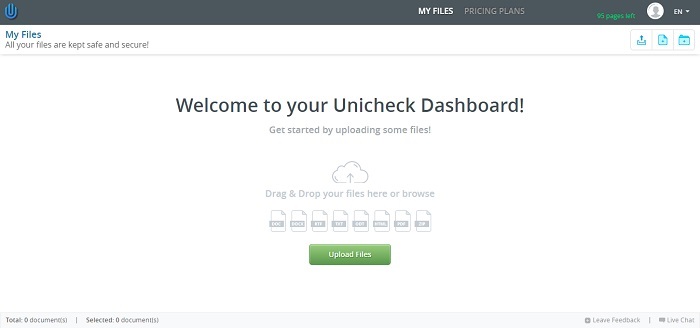 It seems like Unicheck has been created with educators in mind. The tool can be integrated with a few most popular LMSs: Moodle, Blackboard, Canvas, Classroom, and Schoology. Enterprise users can also enjoy API and custom integration and development.
Unicheck enables multiple accounts for educators and students. Unlimited file storage makes it appealing to store student works on this platform. Plus, if you have a personal database here, you will be able to scan new papers against it.
Pricing
Unicheck has different pricing models for individual and corporate clients. If you're an individual user, you may choose whether to acquire a subscription for one month ($9.97/month), three months ($6.98/month billed as one payment of $20.95) or a year ($4.99 billed as one payment of $59.88). Every individual client gets the same features and functionality, no matter the amount of money paid.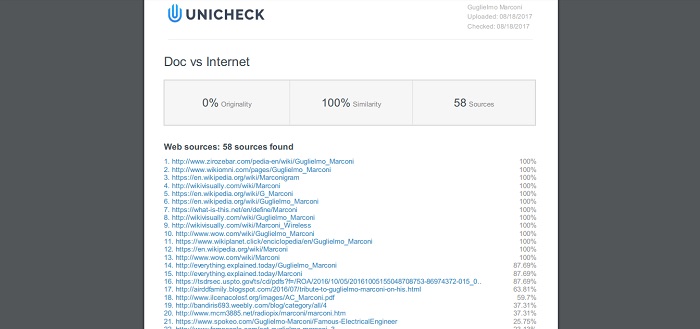 Corporate plans differ in components and pricing. They depend on the country, in which your institution is located.
Before signing up, you can submit three documents of up to 500 words each at no cost.
Testing results
The first thing I noticed about Unicheck is its new interface. Unplag was pretty clean-looking, but with the upgrade, the navigation has become easier and quicker. Once again, I submitted several documents at a time and let them get verified in the background mode.
A passage copied from Wikipedia didn't make it: Unicheck demonstrated accurate results (100% similarity) and provided me with an extensive list of similarity sources. A character replacement in the same text has been detected and even highlighted, though the software hasn't found matching sources for all the phrases this time (89.55% similarity, 44 sources instead of 58).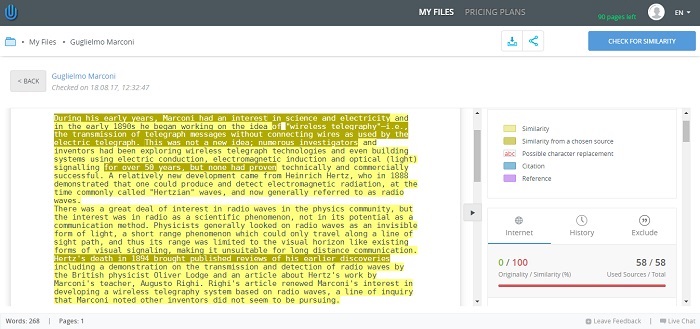 I also tried to paraphrase the same text by changing a couple of words here and there and removing some of them. As a result, Unicheck marked it as 55.6% unoriginal. This score was gained exactly because of the phrases I modified. Thus, in the final report only unchanged parts were highlighted. Unicheck's developers say they're working on paraphrase recognition and have already added it to their roadmap, along with a robust grammar editor.
Finally, when I submitted a passage copied from an online PDF research work, Unicheck hasn't found any similarities. Perhaps, the reason is that it scans all the pages and documents indexed by Bing and Yahoo, while the original work was found on Google.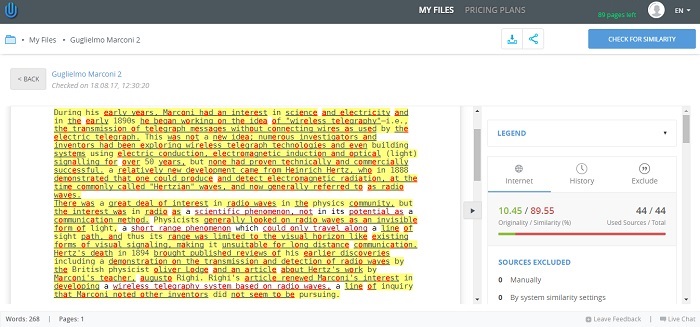 Unicheck generates quite simple and at the same time informative reports. They can be instantly downloaded in PDF or emailed right from the dashboard. You can also exclude references and citations and omit certain matching web pages, and a report will be instantly renewed.
Final score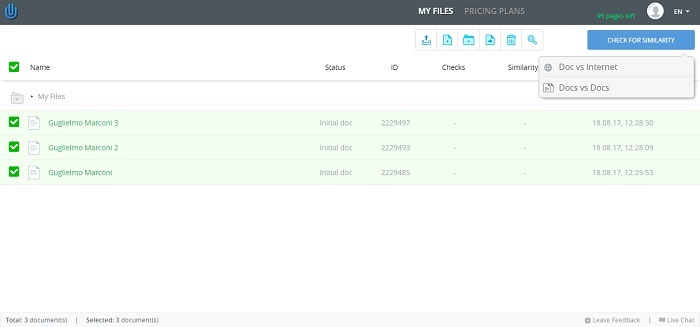 For partially detecting three of four plagiarism examples, I gave Unicheck 4/5 for the quality of examination. Apart from this software, I have tested its 14 (!) competitors, and you're welcome to take a look at the summary.
Conclusion
Unicheck can be a solution for those who need to scan documents against their own databases, not just the Internet. The visually appealing interface and reports make it extremely easy to use and understand Unicheck. Though not the best at the quality of examination, Unicheck did much better than many of its competitors. It is regularly updated by the developers who promise to add new exciting features in the future.