PlagTracker is an online service based on a unique algorithm. It is available in free and premium versions that differ in the processing speed and a number of additional features. You will find a lot of positive feedback about the software on the web, but is it really that reliable? Let's see.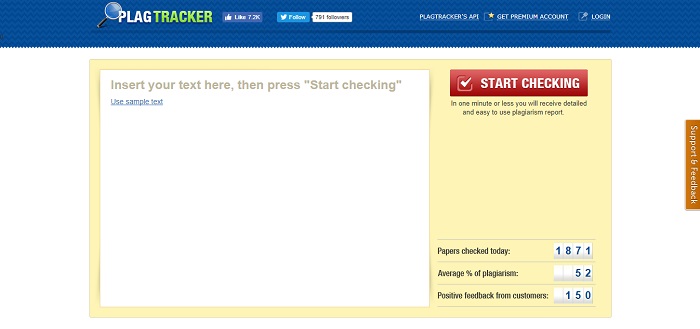 Pricing
You can try PlagTracker for free even without signing up. There's no limit on the number of free scans, but if you perform more than one scan a day, you will be placed in a queue.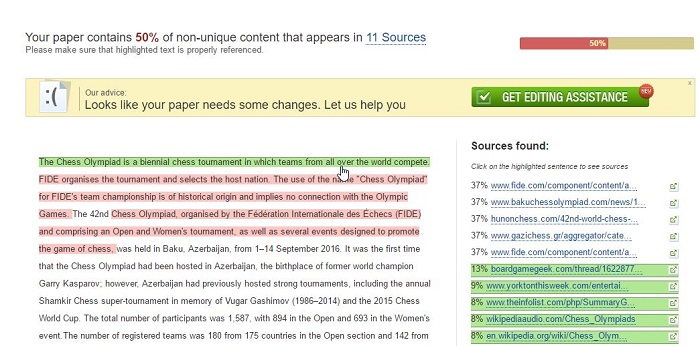 The Premium versions costs $14.99/month. The first month is available at half price: $7.49/month. With the paid account, you get quicker reports, grammar check, reference processing, downloadable PDF reports, database check, file upload option, and access to API. The website also claims that the Premium account verifies documents "in a more sophisticated way", though I tried both versions and didn't notice any difference.
Testing results
I carried out a test with various kinds of texts and uploaded each of them twice. To my surprise, one and the same article sometimes produced different originality scores and lists of sources. For example, when I pasted an entirely copied passage twice, PlagTracker marked it as 50% unique the first time and 43% unique on the second attempt.
I later uploaded the same paper, but with letters from different alphabets. PlagTracker was still able to find the matching sources, but this time the originality percentage increased to 63 and the number of links dropped from 11 to 8.
One more commonly used trick is paraphrasing. Removing some words and replacing others with synonyms made PlagTracker "think" a paper is 61% unique, though once again it detected the sources. This means that users should open every link to carefully compare results themselves.
The Premium version is said to have an additional "cross-check of the publications database". Apparently, a PDF book, from which I copied another passage, doesn't make part of this repository. The software didn't spot any duplicates – 100% originality here.
For the last run, I submitted my article that I haven't published anywhere yet. PlagTracker marked it as 100% unique (that's true), not giving any false positives based on common phrases.
Final score
In my test, PlagTracker succeeded in finding the original sources for most of the samples. However, similarity scores were quite inaccurate and often confusing, considering that one and the same text generated different results. This is why at the moment, I'm giving it only 2/5 for the quality of examination.
Conclusion
I definitely could not call PlagTracker the most accurate tool I've tried (and I've tested 15 (!) of them – see the results). Neither it is the most powerful: its most sophisticated feature is perhaps reference exclusion. At the same time, PlagTracker has managed to find the original sources for most of the documents I uploaded. Plus, it offers an unlimited number of scans – something many tools don't do, because every use of web index comes at a price. If you only need really basic functionality and aren't afraid of reanalyzing the examination results, give it a go. After all, you can try PlagTracker for free even without signing up.