Turnitin is an internet-based service available through a school wide subscription. There are two solutions available: Revision Assistant for students and Feedback Studio for educators. With the latter, you can reveal content matches, but not only. It also allows you to grade papers and leave text and voice comments.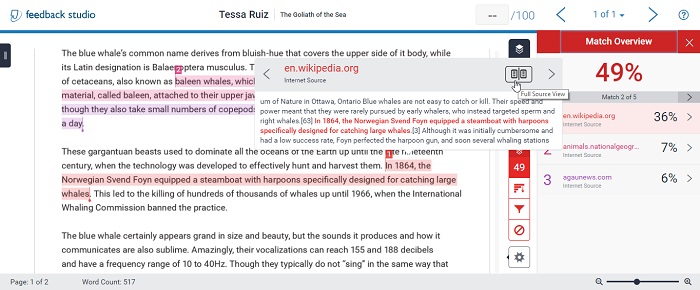 When comparing works, the software relies on an enormous database – 62 billion indexed web pages, 734 million student papers, and 160 million scholarly journals and articles (as of October, 2017). While these numbers make Turnitin seem reliable, they also provoked a lot of discussion. The software's opponents say it violates intellectual property rights by adding student works to the inner database against their will. There were cases students signed petitions against submitting their works to Turnitin and even filed a lawsuit. In this review, however, I will step aside from the debates and simply analyze the quality of examination.
Pricing
Turnitin doesn't reveal its pricing model. Apparently, the cost depends on different variables, such as the number of enrollments, included features, and others. In 2014 PcMag claimed the price was $3 per student account per year.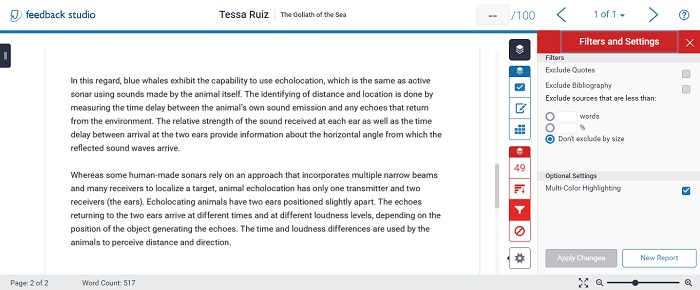 Testing results
Turnitin seems to have the biggest database among all the plagiarism finders. That being said, I felt a little silly challenging the software to run through a simple duplicate of a Wikipedia page. Indeed, the report said the text is 100% similar and showed 18 matching sources.
Mixing characters from different alphabets is proved to be quite challenging for Feedback Studio. Once again, it detected the original sources, but the similarity index dropped from 100% to 78%, even though the text remained the same.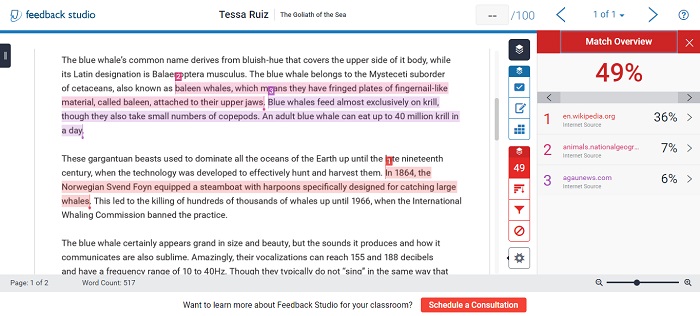 For the third run, I rephrased the passage omitting a few words and replacing others with synonyms. This time, the software highlighted some unaltered phrases and gave the document a 56% similarity score. By clicking on the given links, I was able to compare the submitted text to the found matches and see where exactly it was modified.
Turnitin hasn't faced any problem identifying an original source for an extract I copied from a PDF book. This must be due to the tremendous database containing academic works, journals, and publications.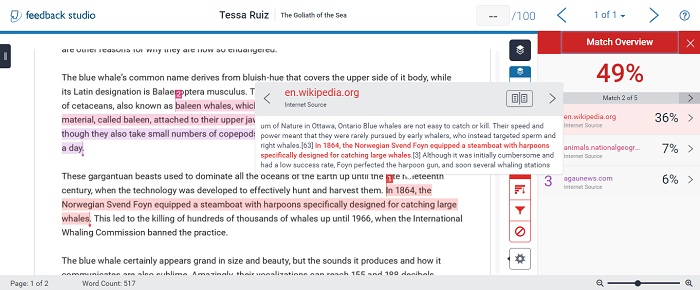 For the last test, I gave an inverse task uploading an entirely unique text. How do I know it's 100% original? Well, it's the article I wrote myself and I haven't published it anywhere yet. Yet, Feedback Studio disagreed. It highlighted some really small combination of words and showed the sources that I didn't use or even see while writing.
Considering how massive the Turnitin's database is, it's not surprise the software sometimes gives false positives. However, the filters allow to avoid this by excluding sources with a certain number or percentage of matching words.
Final score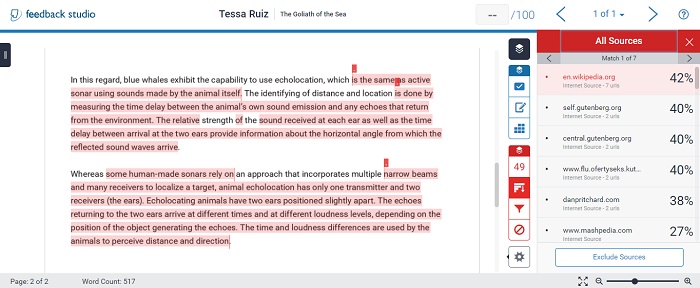 Turnitin's database has provoked a lot of discussion because of the ways it's formed. However, the software is quite accurate in finding duplicate content and this accuracy is mainly achieved because of this database. Feedback Studio detected matches for most of the copies I submitted. It gave false positives for a unique paper, but this can be avoided by setting up the filters. Based on these results, I gave Turnitin 4/5 for the quality of examination. To see how other tools did, check out my comparison of the 15(!) best duplicate content finders.
Conclusion
Turnitin provides educators and students with comprehensive solutions and plagiarism detector is just one of the options. You can also use the software to assess works, provide feedback and encourage collaboration and discussion among students. It may take some time to master Feedback Studio, but in the long run it's supposed to save educators time and efforts. As for now, only school wide accounts are available and individual teachers cannot subscribe.