Grammarly is rather famous for its proofreading capabilities than the plagiarism detection engine, and it's probably not fair. The software is as good at spotting unoriginal content, as it is at finding grammar, spelling and punctuation mistakes ( maybe even better). By combining a thesaurus, automated proofreader and plagiarism finder, Grammarly saves users from having to purchase these tools separately.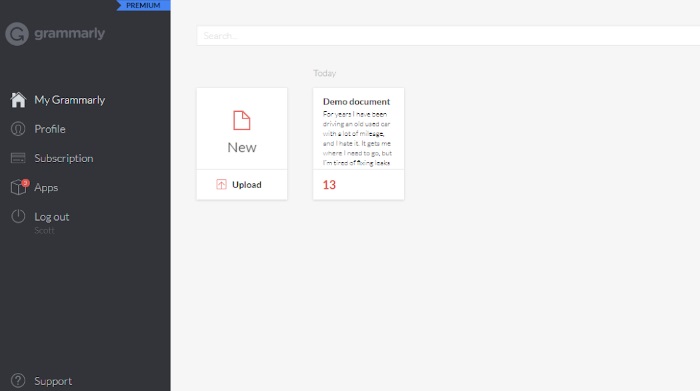 Unlike its competitors, Grammarly is available in many versions: as an online platform, native desktop app, browser extension, and even a Microsoft Office add-in. This is especially convenient for those who need to proofread texts regularly. For example, if I write an email in Microsoft Outlook or a message on Facebook, I don't need to copy and submit them to Grammarly – instead, the app automatically scans them and suggests improvements in real time. It's also possible to use the plagiarism feature with the desktop app and a Microsoft add-in (see the picture below).
Pricing
Grammarly offers a basic online text editor and browser extension for free. The premium account covers a plagiarism detector, advanced proofreading capabilities, and vocabulary enhancement suggestions. There are three Premium subscription plans available: at $29.95/month, $19.98/month (if paid $59.95 per three months), and $11.66/month (if paid $139.95 per year).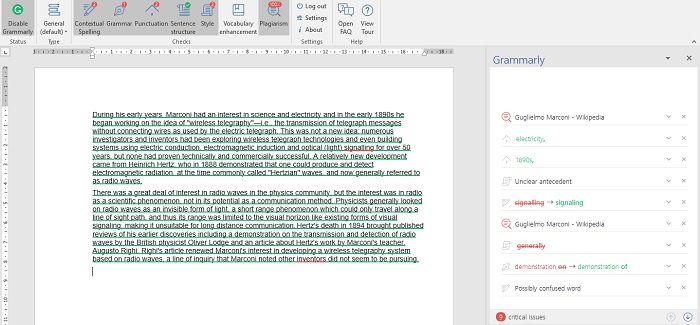 Testing results
Apparently, Grammarly scans documents against different types of web pages (8 billion of them, according to the developers). The software successfully detected duplicates in two passages: one copied from an HTML page and another copied from a PDF document. This is great news for educators, as in academic writing copying often happens with online repositories of different formats.
I submitted the same passage again, but this time I had replaced its characters with the identical ones from another language. Once again, Grammarly spotted the trick and put modified letters in bold, though no proofreading could be done this once.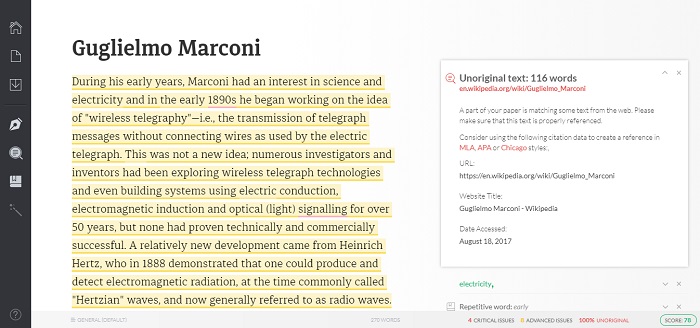 One of the hardest tasks for all the tested tools was to identify paraphrasing. In fact, most of them look for matching phrases out there, and the difference is in how long the found phrases are. This means that the same rewritten passage may generate different originality percentages by different software. Grammarly has detected matching phrases of as few as four consecutive words and flagged a rewritten text as 86% unoriginal.
Finally, upon submitting an entirely unique text, Grammarly didn't generate any false positives based on common phrases. In fact, the software didn't show originality percentage at all – it only does so when similarities are found.
Final score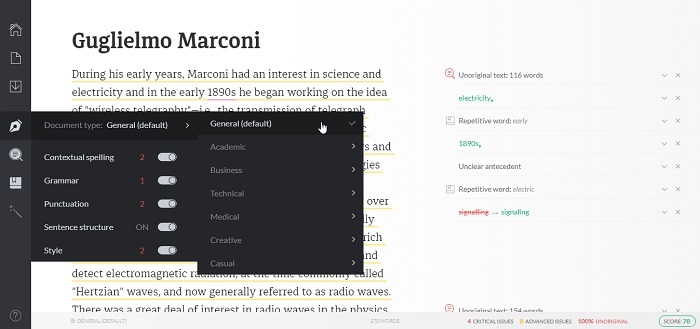 Based on the above-described research, I gave Grammarly 5/5 for the quality of examination. The software detected copying where its competitors failed to do so: it recognized duplicates from different sources and spotted character replacement. Those who want to rewrite others' works will have to try hard to get past Grammarly, as it found matching phrases of as few as five consecutive words.
Conclusion
Whether you need a plagiarism detector alone or combined with an automated proofreader, Grammarly is a good choice. It gives you full control of the correction process: you can always choose what type(s) of the check to perform. What's more important, Grammarly is accurate at finding matching sources for copied content. While I haven't tested the text editor, you're free to give it a go and see if it stands by its promises too.