Plagiarism Software is a simple tool that allows you to scan texts and websites. It's possible to exclude one URL from the results, so that the software doesn't compare text against it. Apart from originality reports, Plagiarism Software generates keywords statistics and offers grammar and spelling improvements.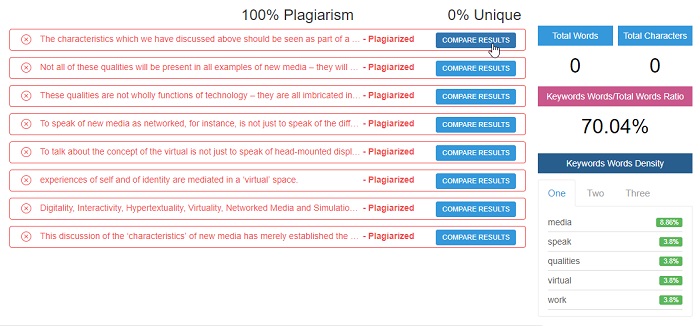 Overall, this platform is pretty easy to use. There are no twisted settings or no settings whatsoever. Users are only required to submit a text or a website and exclude a certain URL, if necessary. Upon verification, the results are available online, but cannot be downloaded or shared. This is quite inconvenient, considering that there's no dashboard and the reports are not saved.
Pricing
There are three monthly plans: basic for $10, business for $20, and enterprise for $50. The difference is in the limits of searches per month: 300, 750, and 2000 accordingly, and the number of words per query: 1000, 1500, and 2000 words accordingly.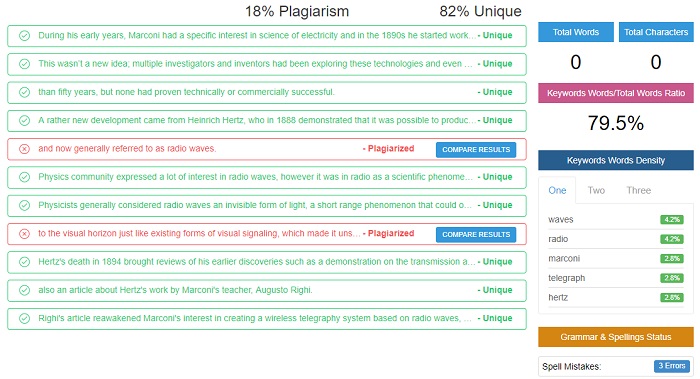 You can try the software for free. To do that, sign up and you will be able to submit one document of up to 1000 words at no cost.
Testing results
First, I copied a passage from Wikipedia and submitted it for the test. Before starting, I was sure any tool would be capable of marking the copy as 100% similar. However, the originality score differs from one tool to another. This time, the report stated the text in question is 78% plagiarized. The original source was found, but for some reason some of the phrases were marked as unique, hence the score.
When trying to come around machine, students often rely on some standard tricks, and I tried them too for the test. First, I replaced the letters with the identical ones from the Greek alphabet. The software didn't detect cheating and marked the text as 100% unique. Paraphrasing a few phrases did its job too: 82% originality. At the same time, the software found the matching source and phrases. As you can see from the picture below, a matching phrase consists of 8 consecutive words. This means that to get around this tool, students need to alter phrases shorter than that.

As my research showed, copyright scanners sometimes face difficulties finding duplicates among HTML sources. If a text was copied from an online repository in PDF or similar formats, chances that the original source will be found are even lower. Not for Plagiarism Software though. It has demonstrated more accurate results here: 100% similarity and the link to the original PDF book. Finally, the software did well upon scanning a unique document: 100% originality and no false positives given.
Many tools generate a list of matching sources next to the text, but Plagiarism Software doesn't. Instead it creates a list of sentences and corresponding links next to each of the phrases. This is embarrassingly inconvenient, as I have to open each link one by one and get redirected to the same webpage all the time.
Final score
Plagiarism Software isn't the most neither the least accurate copyright scanner I tried. I gave it 3/5 for partially finding duplicates for my sample texts and not revealing any false positives. The tool did great marking a passage from an online PDF book as 100% unoriginal – the most accurate results among all the tools tested. At the same time, it was easily come around by simple character replacement and paraphrasing. Hope the developers will continue working on these issues to perfect the software.
Conclusion
Plagiarism Software is an extremely easy-to-use software with simple interaction and no twisted settings. It does just what its name promises and a little bit more: you can scan texts and websites, get basic spelling and grammar suggestions, and keyword density information. The results of my research turned out to be rather contradictory and not always accurate, so I wouldn't rely solely on this solution. Note that I haven't tried the URL verification feature and you can try it for free by signing up.