PlagScan is probably the most flexible plagiarism detection tool I've ever tested: it gives users full control over the interface, reporting, and even verification results. The flexibility comes at a price though. It takes quite a while to get acquainted with all the options and understand how to use them best.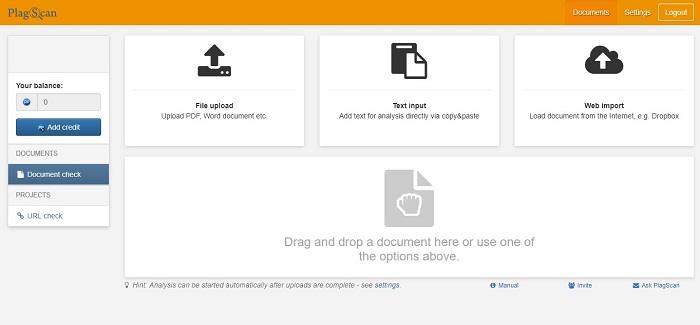 With PlagScan, you can scan content against three different databases: the Internet, your own documents, and the so-called Plagiarism Prevention Tool, which stores files voluntarily shared by users. When looking for similarities on the Web, PlagScan only searches for thematically related documents. This specifically developed algorithm based on a statistic method allows the tool to be meticulous in scanning without loss of speed.
Pricing
PlagScan offers different pricing for private users, schools, universities, and companies. Private users acquire credits needed to perform checks: $5.99 for 6,500 words, $12.99 for 25,000 words, $24.99 for 62,500 words, and $49.99 for 150,000 words.
Schools can choose subscription plans based on the number of students. The price here starts at $249/year. Universities need to contact sales for a quote. Apart from basic functionality, educators can benefit a number of special features, including multiple accounts for teachers, unlimited storage, API integration, and others.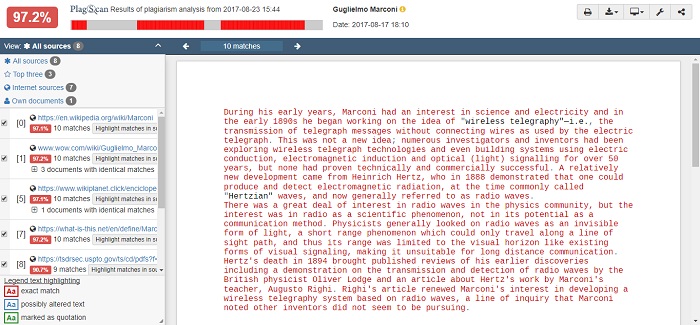 Business users can enjoy API access and some other special features too. Companies need to acquire monthly subscriptions that differ in pricing depending on the number of submitted pages. The basic plan costs $9.99/months and covers 100 pages (or 25,000 words).
You can try PlagScan for free: it welcomes all new single users with 20 PlagPoints, which are enough for checking 2,000 words.
Testing results
In my research, I use a few different sample texts: a passage copied from Wikipedia, its rewritten version, another version with replaced characters, a passage copied from an online PDF document, and a piece of completely unique content. By default PlagScan looks for similarities not only on the web, but among all the uploaded documents. As you can imagine, because of this the results were rather tangled.
Upon verifying a passage fully copied from Wikipedia, PlagScan generated a report with a 97.2% similarity score. The rest 2.8% are excluded because of the phrases in quotation marks. The rewritten version got a similar result – 97.3%. However, this percentage is due to the fact that I also uploaded the original version. When compared to the Internet only, this text is marked as plagiarized by 74.8%.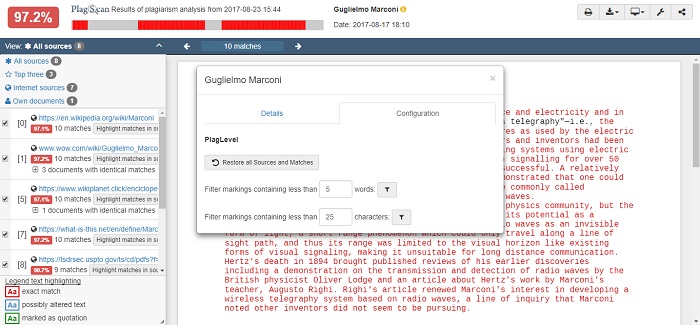 PlagScan didn't find any similarities in the text with replaced characters. However, the tool marked the text with a special icon saying "the document contains a suspicious mixture of alphabets, this could be an attempt of cheating". Finally, no cheating was detected in a copied PDF. The report showed 2.2% similarity score and contained a couple of matching sources, but both of them simply happened to have an identical phrase and had nothing to do with the original text.
As I mentioned before, PlagScan has a lot of various options. In the Settings menu, you can configure the interface, documents deletion policy, report type, and verification options. For example, you can choose whether to compare documents against web sources, your documents, the tool's internal database, or all of them. You can also set up sensitivity: the lower it is, the fewer and longer the found matches are. Right on the report page, it's possible to filter markings that contain less than a certain number of words or characters.
Final score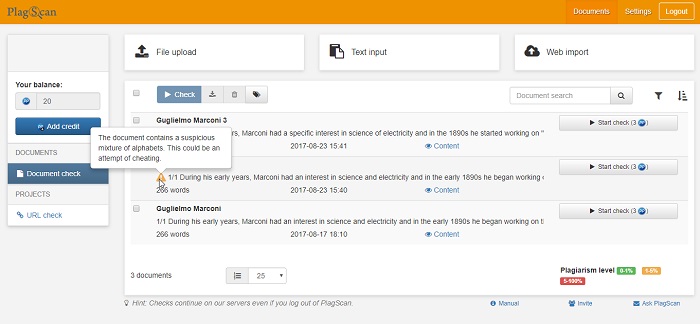 PlagScan effectively detected copying in a sample text and its rewritten version, though showing less sources for the latter. It didn't find an original PDF source and it marked Greek letters in the English text, but didn't find any sources for it. Based on these results and the advanced checking options, my score for PlagScan is 4/5.
Conclusion
If you like to customize tools according to your personal needs, PlagScan may be a solution for you. Basically, this software is so flexible that you can even have control over the verification results. Thus, one and the same document can generate different originality percentage based on the sensitivity you set up. At the same time, PlagScan hasn't turned out to be the most user-friendly or the most accurate tool either. To see how its alternatives did, see my comprehensive review.