Copyscape is primarily aimed at protecting websites and blogs. If you have a website, you may scan its URL manually or use Copysentry, which will automatically and regularly monitor the web for duplicates. It's also possible to submit texts, however this option is only available under Copyscape Premium.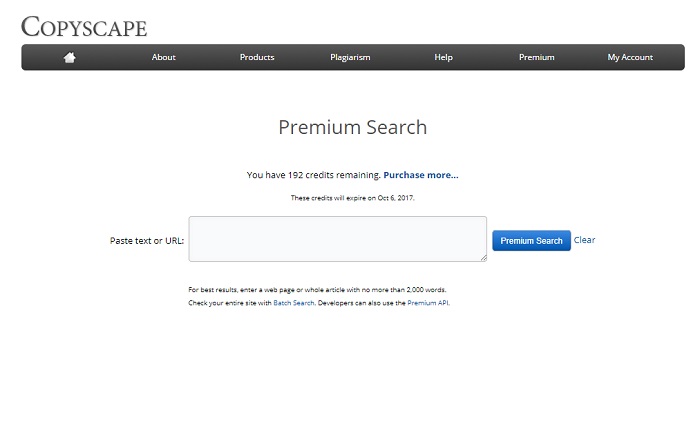 If you need to compare two articles or two websites, Copyscape allows you to do that for free. Yet another free solution is a set of warning banners that you can add to a website in order to warn visitors against copyright violation.
Pricing
The free version enables a limited number of scans of a certain website per month. Note that the software doesn't distinguish users. This means you may get a limit reached if somebody else submitted the same link this month. The free comparison tool allows up to 20 uses per day.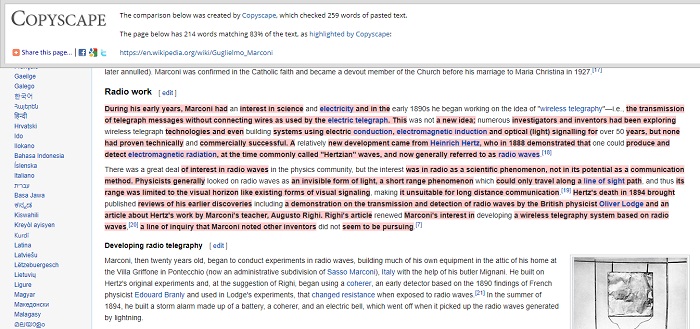 To use Copyscape Premium, a minimum of $5 payment is required. This money will be then used for search credits: $0.05 for a single credit needed to scan a website or a portion of text. If you scan a document against both the internet and Private Index (your own content), two search credits will be withdrawn.
Testing results
I have tried out the Premium version and submitted texts, not URLs. First, I copied and pasted a passage I had stolen from Wikipedia. The software revealed 28 matching sources, including that very Wikipedia page.
Unlike most other tools, Copyscape doesn't show the general originality score. However it provides you with a rather extensive list of links and corresponding matching percentages for each of them. In my test, Copyscape identified 100% duplication for the original source and highlighted the copied passage within it. Note that to see how much of a certain online content is identical to your paper, you need to click the Compare text button and not the link.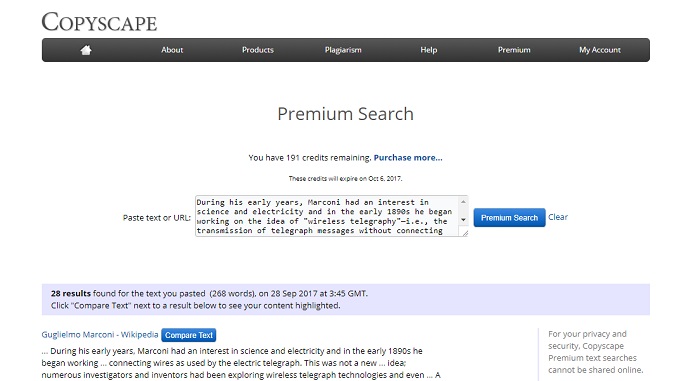 What Copyscape failed to spot was the modified characters in the very same text: I replaced some of them with identical letters from a Greek alphabet. Plus, the software mistook an extract taken from an online PDF document for unique.
Finally, I have changed a few phrases in the first text and submitted it again. This time, Copyscape found fewer matching sources (19 instead of 28) and marked the Wikipedia page as 83% identical, highlighting the untouched parts only.
Final score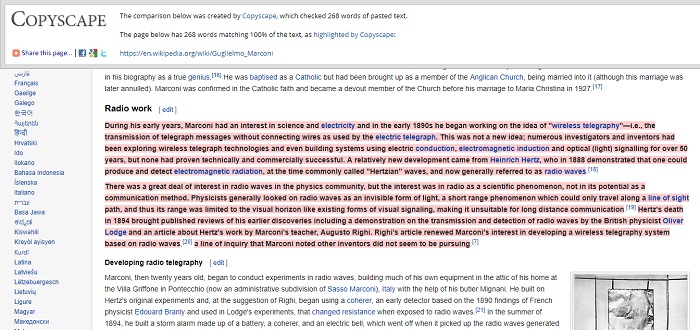 For partly recognizing content fraud I gave Copyscape 3/5. The software found an original source for a copied text, even when I modified some phrases in it. At the same time, it marked as unique two other duplicates. To see what results other tools demonstrated, check this overview.
Conclusion
Copyscape allows users to scan plain texts, as well as URLs. I only tried the first option and hope the second works better, as I wasn't impressed with the quality of examination or the ease of use. Copyscape generates similarity score for every matching link, which can only be open in the same window and this is not really convenient. Don't hesitate though to try Copyscape for URL verification. If you own a website, you'll also appreciate Copysentry. This tool can release you from the care of manual verifications by automatically scanning the web for the copies of your website.