Plagiarisma is a partially free online platform also available in a desktop version. Users don't have to sign in, however registered users have a number of advantages, for instance, a possibility to see the whole list of matching links. One restriction for unregistered users I find strange is the minimum of 4 words and 30 characters per each sentence.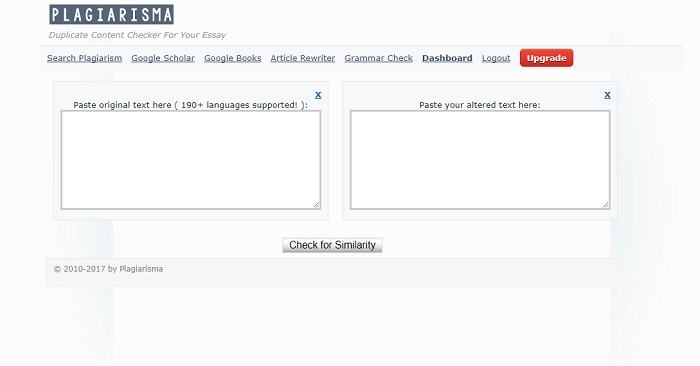 The software is not limited to duplicate content finder: additional features include Synonymizer that rewrites sentences with synonyms, and Similarity Checker that compares two texts "using fuzzy logic and Levenshtein method". Plus, Plagiarisma is capable of checking URLs, along with plain texts.
Pricing
The free version allows users to submit documents and/or URLs up to three times a day. Note that the software performs separate scans for Google and Yahoo, so the limit is easy to reach. One little trick here is to paste or upload three texts as an unregistered user and three more after logging in.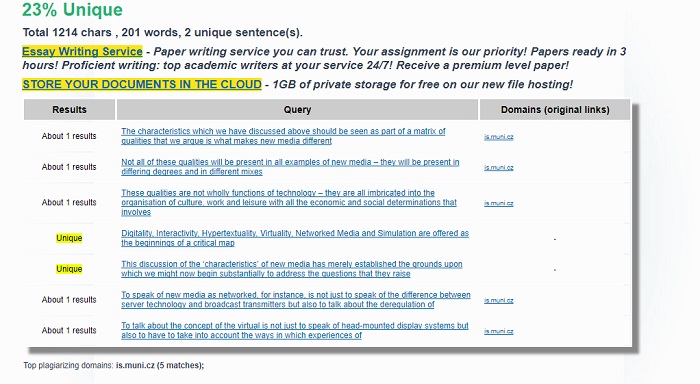 The Premium account is available for $5 per day, $25 per month, $35 per three months, and $65 per six months. The daily plan allows up to 100 scans per month and can be used up by up to 25 users simultaneously. Other plans remove all the restrictions on the number of searches, but are only available for one user at a time.
Testing results
Plagiarisma is not the only software of its kind I tested. However, I have never got so confusing results before. Plagiarisma generated different similarity scores for one and the same text submitted several times. The results also varied for scans against Yahoo and Google, for example, 52% originality for Google and 0% for Yahoo for a passage I had copied from Wikipedia.
When I replaced characters with the identical ones from the Greek alphabet, Plagiarisma marked the modified text as 100% unique for Google and 75% for Yahoo. Surprisingly, when I uploaded this text one more time, the originality percentage for Yahoo grew and reached 87%. Paraphrasing a couple of words made this text 100% and 57% unique when compared against Google and Yahoo accordingly. In any case, the provided links had nothing to do with the original text.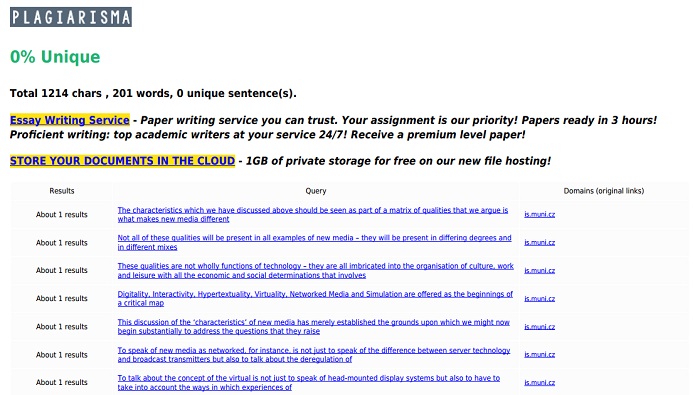 The silver lining to this is the fact that Plagiarisma detected duplication where many of its analogs failed: in a text copied from an online PDF book. Plagiarisma found the original source, though the scores were somewhat confusing again: 100% similarity for Google and 86% for Yahoo.
I could not but perform my "PDF test" with Google Search specifically designated to finding similarities in articles, books, essays, journals, and other academic papers. Strangely enough it did worse than standard search: 23% of originality, but it did find the original source too.
Final score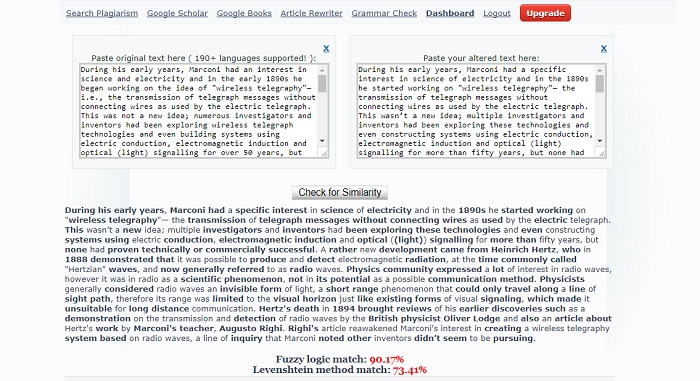 In my research, I gave Plagiarisma 1/5 for confusing and not always accurate numbers. The software often generates different similarity scores for scans against Google and Yahoo. I would definitely prefer it to analyze a paper once and provide one clear answer to whether it has been plagiarised and to what extent. To see how other tools did see this comprehensive overview with a comparative chart.
Conclusion
Plagiarisma doesn't seem to excel in the overall quality of examination, therefore I wouldn't rely solely on it. However the software proved to scan online repositories, not just HTML pages. Therefore it could be a good idea to use Plagiarisma in addition to the main software and recheck academic works here.